 Marketing & Ads Campaigns
That Actually Work
Rainbox Digital is a U.S. Based advertising agency focused on positive-ROI
customer acquisition. If you want to grow your brand through paid ads,
let's talk!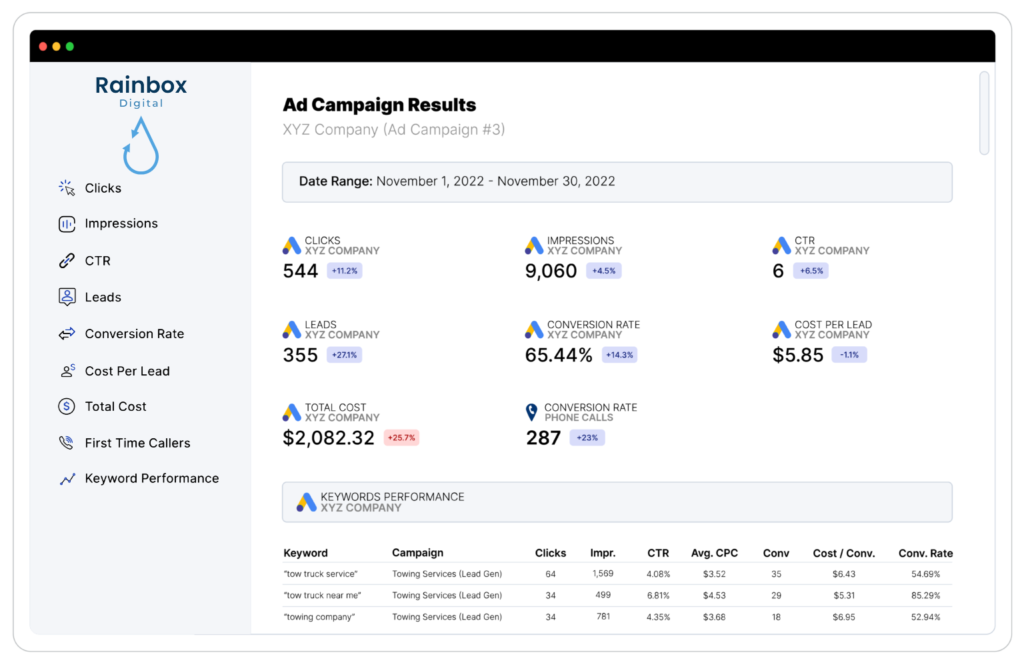 We're a Google Partner Agency
When it comes to PPC, we walk the walk.
As a Google Partner Agency, we've joined the cream of the crop in PPC specialists. This designation is
reserved for advertising agencies who have demonstrated a consistent track record of success.
Scale Your Business With Google Ads
Which best describes your business?
Get more leads and sales than your business can handle with ads that actually convert.
"Rainbox Digital has put in tons of time and effort to figure out all the nitty-gritty details of sales and marketing, all to help their customers do well. They're the real deal and someone I always turn to for advice." - Riley Likes
We'll make sure your Google Ads campaigns are built, optimized, managed, monitored, and controlled. Google Ads will provide your business with a predictable customer acquisition channel to scale.
Our Google Local Service Ad program is a great option for businesses since it doesn't require any setup fee or monthly fee. You only pay for it when you get successful leads.

Rainbox Recruit is a program that uses omnichannel marketing to find talented agents looking to join a top-tier brokerage team. Our goal is to connect with the best in the industry and ensure your team/brokerage's continued success.

Real Estate Private Lead Program
Private Lead Program is a unique twist on PPC, where we advertise across multiple channels, including Google search, Youtube, Email, and News ads. By utilizing this approach, we can ensure high-quality leads for our clients and help them achieve their business goals.
Want best-in-class PPC agency services? You're at the right place. Top 2 reasons clients choose us:
There's no such thing as set-it and forget-it ads. Your ad campaigns are constantly optimized and tweaked to improve conversion rates. We create exponential profitability for your company by staying on top of your ad campaigns daily.
You aren't just another sale to us. You are a valued partner and we care deeply about your success. When you win, we win! Just look at the hundreds of client and agency partner testimonial images we have from over the years.
Full-Service PPC Management
Whether you've been doing PPC campaigns
for years or you're just getting started, we'll
ensure optimal setup for ROI-positive results.
Rainbox Recruit is a program that uses omnichannel marketing to attract talented agents seeking to join a brokerage team.
Use Google Ads To Outsmart The Competition
Click here for more info >
Justin advice, information, and techniques have helped my business not only STAY OPEN these last few years, but GROW with consistency.
Nate Butcher
CEO @ The Nate Butcher Group
High Intent Keywords + AI Driven Ad Copy
We'll make sure we are only going after the highest quality keywords specific to your business. Keywords and ad copy that combined are crafted to drive an outcome (a click). From there, our landing pages will do all the heavy lifting of turning that traffic into a lead. We use an AI ad generation software to help us craft your ad copy/hooks.
We don't guess when it comes to optimizing your Google Ads data. We have a templated system to analyze and optimize strategic custom KPI's for your campaigns to make sure we are continually making the quality of your search traffic better. We continually optimize dozens of campaign metrics every week.
High Converting Sales Funnels
We don't just send traffic to any old website. We only send traffic to a very strategically designed lead generation funnel. Our pages are designed to turn cold Google traffic into phone calls and leads. Don't worry, we'll build you something that converts like crazy.
We'll Craft Your Customers Journey
Anyone can build a Google Ads campaign with great keywords. The true magic starts with turning keyword traffic into actual sales & revenue.. This is accomplished by taking the potential customer by the hand and walking them through the 'know, like and trust' phase via your custom landing page.
Ready to start generating leads? Raising your profitability and bringing in more business than you can handle?
Take your business
to the next level with a
marketing agency that actually
delivers.